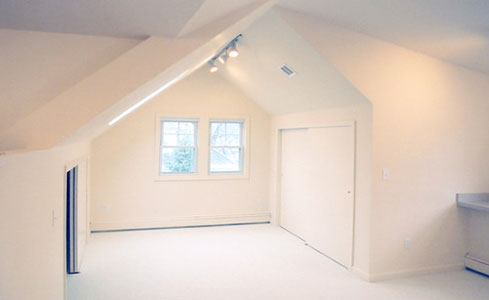 Do you need more usable space in your home but just don't have the budget for a full blown home expansion?
Sometimes all you need to do is to simply look up! Yes, that's right, just look up!
An attic conversion is one of the most cost-effective investments you can make in your home. With the basic structure already in place, the return on the investment is definitely worth the monetary cost. If you are considering an extra bedroom, a playroom, home office, craft space or home theater, the unique spaces that attics can provide allow for the ultimate in one of a kind creativity for your home.
Attic conversions do pose some unique requirements when being converted, and we are here and ready to help make sure all of those are met, while still giving you the room you envisioned.
Some things to consider are:
Natural light, headroom, and air circulation. Window additions may be necessary to acheive the desired effect and usability.
Noise is a big consideration, as well as addition of stairs and placment of stairs to meet proper exit codes. These items are all a part of the design process.
Ultimately, this could be one of the most dramatic, space-efficient, and creative changes you could make to your home.
When you begin planning your new attic space, it is helpful to look at magazines, friends and familys homes where attic conversions have been done, or other examples online of what you may hope for your finished space to look like.
Though it may add some cost to the project, it is important to think about if you need to add a dormer as part of the construction. Dormers will dramatically change the exterior of the house, the bring in an abundance of natural light, add a source of ventilation and can also add functioning square footage to the foot print of your attic. Dormers are a consideration and a decision you should make up front.
The great thing about attics, unlike basements, is that they don't pose the same challenges with dryness and large appliances. Therefore, the space is easily converted without too many obstacles. If the ceilings are the prominent focal point of your attic, it will be worth the splurge to make them as attractive and useful as possible. It works well to design bookcases and custom storage units that fit with the slants, or low cabinets that will work with the existing structures.
Start by thinking about the ways in which you would like to use your new found space, surf the web, look at magazines, sketch out your ideas when you have a little down time, dream the best conversion you can make in your home, and call us when you're ready to begin.