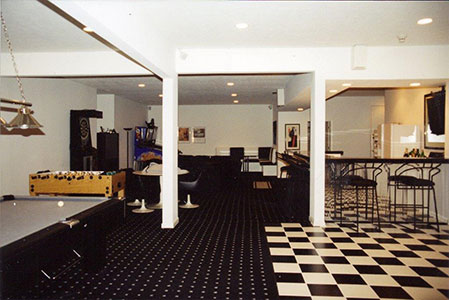 Is your basement nothing but a sea of unopened moving boxes, is is nothing more than a huge mechanical room for your furnace and water heater? Could you use the extra space?
Why not think about a basement conversion?
Basements can be the most underutilized space in a house. A basement conversion can not only open up your home, but also add value to its existing structure.
Whether you need a space for your kids to play and expend energy, or you prefer a home theater, or beautifully constructed bar, we can help to maximize your space and provide an entirely new area for your friends and family to create memories.
We are careful to inspect internal and external foundations and water sources before beginning work. We will also advise you if any updates or improvements need to be made before you begin your basement rebovation.
Insulation, heating, lighting, and proper flooring are all areas with which we have experience and can guide you toward the newest and best options for you and your family.
Have you finally won the battle to turn the basement into a man cave? Is it time to soften and brighten the space that has only been used for storage and laundry? Let us help you design a space big enough for the pool table and plenty of seating for when all your friends come over to watch the big game. Let us help you envision a quiet escape for your hobbies or watching your favorite movie.
With everyone spending so much more time in your new basement space, you might want considered adding a bathroom or a full kitchen and bar? With this second living space in your home, you can maximize your entertaining space, allow for less clutter elsewhere in your house, and keep everyone smiling
Your newly constructed basment space will be the room you will never want to leave!